Transportation of a Dense Medium Coal Washing Plant from the UK to Belovo, Siberia.
The mobilisation of a complete plant.
Components sourced from various collection points in the UK
and Ireland were gathered, loaded and coded in our main depot.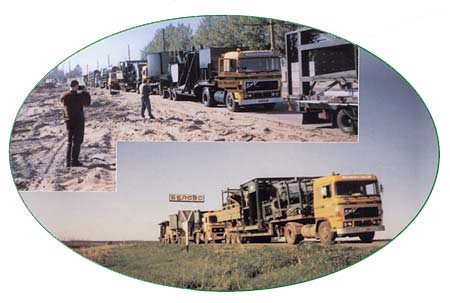 Transported to Hull Docks and shipped to St. Petersburg Russia. Russian police and guards escorted the convoy overland to Belovo in Siberia.
On arrival the plant was offloaded and positioned onto concrete footings by the Scotts transportation team. The washing plant transport consisted of semi lowloaders, extendable 18 metre flats, 50% of which were abnormal loads (see our guide to abnormal loads). This type of transportation demonstrates Scotts continuing drive to move into new areas of delivery and service throughout the world.